Running a Swim Season Should Not Be Difficult
Without
an easy-to-use software platform, your team and league will continue to face these common
PROBLEMS
throughout the season:
BEFORE THE MEET
Struggle collecting team registrations

Endlessly emailing meet files & entries

Hours juggling multiple systems for communication & meet prep

Preparing and printing stacks
of timer cards
DURING THE MEET
Gathering volunteers & communicating

Hours of manual data entry

Stopwatches & paper
(Outdated timing systems)

Parents wanting to know results
AFTER THE MEET
Communicating swim meet results

Sending results files back & forth

Reporting results to the team & league

Inability to share results with parents
You don't have to over-engineer the process, juggle multiple systems, and rely on veteran volunteers.
FASTER SWIM MEETS. FEWER VOLUNTEERS. NO PAPER.
Because whether you are a summer leaguer, an Olympian, a student athlete, a parent, or a fan, everyone in the sport deserves a fun experience with lessons and stories that last a lifetime.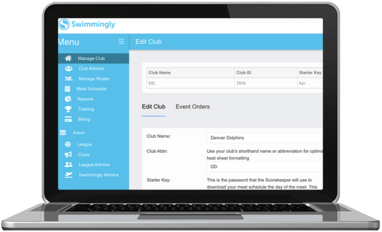 Team Management

Admins, Coaches & Parents
Comprehensive team registration
Communicate in-app with your team & families!
Cloud-based: Access your team, on-demand, anytime, anywhere
Manage your club, meet declarations, entries, heat sheets, reports & more!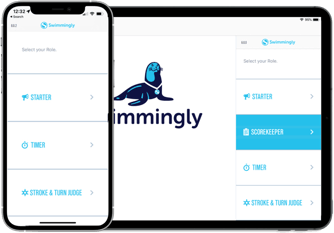 Meet Management + Timing System

Starter, Timers, Judges & Scorekeeper
Run your swim meet entirely from an app
Setup in minutes
Shorter & simpler swim meets
Fewer volunteers needed
No paper
Sync everyone in-app: Starter, Timers, Officials, Scorekeeper, & Spectators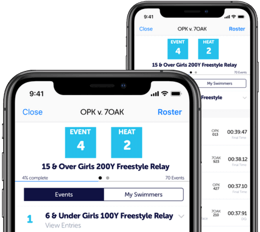 Live Results

Parents & Fans
On-demand, real-time results
Follow your teams and swimmers:
The answer to your common questions:

"When is my swimmer going to swim?"
"What was my swimmer's time?"
"What's the score of the meet?"
When can we leave?"
Your Club's
ONE-STOP-SHOP
TEAM REGISTRATION
TEAM COMMUNICATION & MANAGEMENT
MEET MANAGEMENT
IN-APP TIMING
IN-APP OFFICIATING & SCORING
LIVE RESULTS
We will never go back to the old-school paper/stopwatch system. Our new volunteers and parents are loving the swim meets more than we could have imagined. Can't wait to see what the Swimmingly continues to add in the future!
Swimmingly continues to save our league so much time, paper, and frustration. The volunteers and parents LOVE having everything they need right on their personal device. Additionally, their customer service is AMAZING!
Game Changer! The team at Swimmingly has completely changed the way we run our summer swim league. We are now more efficient and more accurate thanks to the Swimmingly app.
Watch the Swimmingly Team & Olympians teach the next generation of swimmers!
Raleigh & Charlotte NC
Featured Olympians
Missy Franklin
Cullen Jones
Charlie Houchin
Nashville TN
Featured Olympians
Missy Franklin
Katie Hoff
Charlie Houchin
Birmingham AL
Featured Olympians
Missy Franklin
Ricky Berens
Charlie Houchin
Atlanta GA
Featured Olympians
Missy Franklin
Cullen Jones
Charlie Houchin
| 6 | 42 | 202 | 3.9m |
| --- | --- | --- | --- |
| COUNTRIES | STATES | LEAGUES | RESULTS |